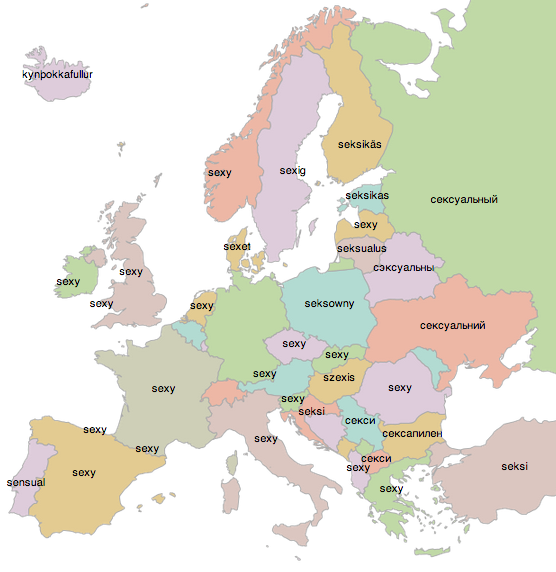 Screenshot via European Word Translator
Thank you, James Trimble, for creating an informative time waster combining all of my favorite travel geek interests – maps, Europe, linguistic patterns, and language evolution. As if his work on UK Data Explorer wasn't cool enough, Trimble has created a page that allows readers to plug in any English word – including curse words – and have it translated across a map of Europe. You can fool around with the map here.
According to Trimble, "This page was inspired by the etymology maps by Bezbojnikul on reddit (which are much more informative than this map). It was built using D3, maps fromNatural Earth, and the Google Translate API."
Take the word, "sexy." More than half of the languages represented use the same spelling and pronunciation. If I wanted to hit on someone during my European travels, the map shows me that I have to modify this adjective once I hit Iceland, where it changes to kynþokkafullur. To me, it's easier to see a visual representation of the word I'm looking for, than carrying around individual language guides for each place.
What words were you surprised to learn about via Trimble's map?
This post originally appeared on MatadorNetwork.com and is reprinted here with permission. 

"I may be a lifelong 'downtowner,' but Central Park really is the most amazing and the most beautiful part of New York City." – Moby
"I love Central Park. I spend a lot of time in there. I try and get in there whenever I can." – Lili Taylor
"My favorite place is Central Park because you never know what you're going to find there. I also like that when I look out the windows of surrounding hotels, it's seems like I'm looking out over a forest." – Haley Joel Osment
I just want to go through Central Park and watch folks passing by. Spend the whole day watching people. I miss that." – Barack Obama
Quotes via brainyquote.com
Click the photo to see more awesome photos of Central Park in winter: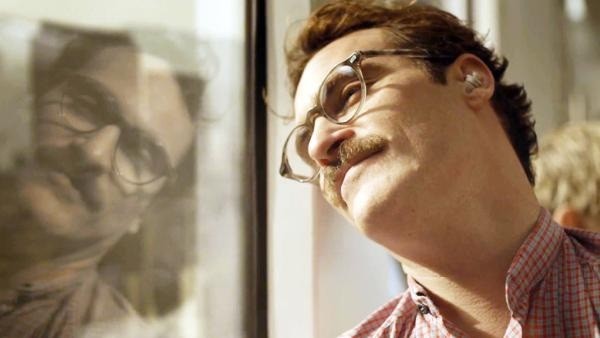 Image via examiner.com
I'M A NOSTALGIC person; I always feel I should have been born at a different point in history, a time that made sense to me, where the problems I'd have to deal with didn't involve eating processed junk food, or nuclear bomb scares. Movies about the future always leave me somewhat depressed, because society just looks so shitty — I don't want to live in space, I don't want to eat liquefied dinners, and I don't want to end up a real-life version of Wall-E.
So I went into Her thinking it would be a stupid film about an introverted weirdo who indulges in cybersex way more than would be realistically entertaining. I left almost in tears, not because the story was particularly Oscar-worthy, but because I felt like I was watching a movie about what the future holds — and it really excited me.
I won't give any spoilers, but Her is essentially a story about a man and his artificially intelligent "operating system," or OS for short. The OS has a name — Samantha — and they become involved in a relationship that seems odd at first; however, as the film progresses, I think most viewers will connect more emotionally with the plot line and character development, and less with the idea that, holy shit, this guy is dating his computer.
Futurism plays a large role in the effectiveness of Her. No exact date is set, but Theodore Twombly and his cohorts live within a Los Angeles of the future (shot on-location, as well as in Shanghai, China). Costumes are cleverly designed outfits that follow fashion's rule of recycled style — the characters wear familiar designs incorporating slight variations, instead of utilitarian jumpsuits, or the outrageous geometric constructions we often see in other films depicting space-aged societies.
Voice-operated personal management, keyboardless computers that work with the swipe of a finger, and projection-based video game systems all feel like natural progressions of the rapidly evolving technologies that exist in our current time period. Where usually I'm disenchanted by ostentatiously sci-fi elements like flying cars, teleportation devices, and alien warlords, I was excited to imagine that, sooner than later, I'd be a living part of Her's vision of the future.
Why go out into a world of people who don't understand you when there's a comfort zone of like-minded people you can talk to via headset?
While many people I know cringe at the thought that these mechanized versions of ourselves are eerily soon to be part of our lives, I was fascinated by the idea of having a "person" around for me at all times. Who wouldn't want a computer system that was designed to suit your exact needs, who knows you better than you know yourself? How many of us are looking for friends, or romantic partners, that complement us in such a way that we almost feel they are mirror images of ourselves?
One of the coolest parts of Her is how the characters embrace the new OS technology. Twombly isn't the only one to become involved with an artificial intelligence — his coworker Paul takes Twombly on double dates with his human girlfriend, and his neighbor Amy finds a best friend in the OS her ex-husband left behind. It comes with its own set of complications and emotional roller-coasters, but the fact remains — the OS's are there for them. Not a lot of people can say that even about their best friends.
Think of the people an OS could help. Sometimes, all we need is a "cheerleader" in our lives to boost our confidence and make us feel valued. It also helps to have someone manage the parts of your life you conveniently neglect — meetings, junk mail, grocery lists, peoples' birthdays (admit it — you wouldn't remember your own if Facebook didn't remind you).
An OS could be useful for the elderly, who may be estranged from their families or live in isolation, who require socialization to prevent mental deterioration but can't leave their homes. People unlucky in love, who may have never experienced unconditional affection from anyone, who may suffer from social anxiety but feel comfortable with an intuitive system that understands them without having to feel vulnerable or exposed.
While human socialization is important, the fact of the matter is telling someone to get out and be "social" is harder than it sounds. I know people who spend all their time playing video games, and I used to criticize them for being anti-social, for never leaving the house. But I was wrong about them — they were being social, just virtually. Why go out into a world of people who don't understand you when there's a comfort zone of like-minded people you can talk to via headset?
The conclusion of Her may surprise you, or may be predictable, depending on your thought process. What viewers need to consider is that, despite its rapid development, we don't have to be afraid of OS-style technology. We can embrace it, and make it work. Facebook, text messages, and other "screened" parts of our lives aren't making us less social — we're still social, just in a different way.
And that, in my opinion, is the definition of technological advancement.
This post originally appeared on MatadorNetwork.com and is reprinted here with permission. 

Photo: Thomas Leuthard
You think you're the next Carrie Bradshaw / Jonathan Ames / Andy Warhol / Jay-Z.
You are not as cool as any of those people. Get it out of your system because unless you're famous already, there's a 99.9% chance no one in New York is going to care about who you are. Those characters and famous figures are awesome role models, but honestly, just be yourself — try and remember that New York City is one of the only places in the world that openly accepts everyone, no matter how weird / drunk / JAPPY / yuppie or otherwise you are.
You're looking for your "soul mate."
Somehow, people find NYC to be "romantic" (despite the garbage-strewn streets, rat-infested subway stations, and overwhelming scent of piss that follows you everywhere). Stop setting relationship priorities / barriers, and start sleeping with everyone. With a population over 8 million, there are way too many people living in New York for you to waste time dating every single one of them.
For every nice guy or sweet girl you meet, you're going to have to go through at least 100 assholes / bitches first. Having a one-night stand helps you get the milk for free instead of having to buy the cow (especially when a gallon of milk here costs $4.29). Have safe sex with everyone, and settle on the first guy / girl that makes you orgasm like crazy. That's a keeper.
You choose to live in terrible apartments.
It is possible to find a sick apartment in New York City without using Craigslist, and without paying out the ass for broker's fees / first month's / last month's rent. How? Patience and perseverance. Don't move somewhere "because it's the cool place to be." Likewise, don't move anywhere unless you've done a little research about the area (yeah, Marine Park is in Brooklyn, but it's also about an hour and a half from any decent NYC action). Never, ever pay rent that is more than your room is actually worth; $1300 a month to sleep on an air mattress in someone's spare closet is lame, and does not "build character," especially when you can rent a decent one-bedroom apartment in Inwood for the same price.
Also, consider the people you live with. If your roommate is a weirdo, move. If your roommate is a catty bitch, move. If your roommate does a lot of drugs, never pays their rent on time, leaves dirty dishes in the sink, has sex in your bedroom without asking you first, and you have not relocated yourself since the first incident, consider yourself to be an NYC fail.
You don't "get" the subway system.
It's really not that complicated, and everyone has Google Maps on their phone anyway. If you don't, A) you're not tech-savvy enough to belong in New York City, and B) you at least have a computer at home where you can Mapquest your end-location before you get there. If the platform has a sign for "Brooklyn," it means the train is going south; "Queens," the train is going east; "Bronx" means north. You have no excuse for getting on the wrong train, unless the F train decides to run on the M track, in which case everyone will be messed up, so cool your jets and take the bus if you have to.
You spend way too much money on booze.
Purchasing a $15 cocktail multiple times in one evening is why last night's dinner consisted of Ritz crackers and day-old cream cheese. People in New York spend way too much money on alcohol, and there is no reason to justify it. It's possible to get drunk on any type of alcohol, so stop buying chipotle-spiced lychee martinis, and start finding those dive bars that sell $1.50 cans of PBR. Then maybe you'll be able to pay that outrageous utilities bill on time, for once.
The easiest way to remedy this situation is to get other people to buy you drinks. Or you can take advantage of free open bar opportunities. In a city where stepping out your door is an invitation to be overstimulated culturally, maybe it's just a matter of finding a new hobby.
You think it's too expensive in general.
Forget about rent and overpriced alcohol — New Yorkers price everything like it's made out of gold. Cigarettes will run you between $10 and $15 a pack. One month of unlimited subway rides costs $112 (about $3.75/day). The Dollar Menu at McDonald's legit will cost you double. Even if you're making a decent salary, you will still be too poor to compete with New York City's cost of living (especially when you see what your lifestyle's price tag can fetch you elsewhere). If you don't enjoy paying $24 after sitting in traffic to take a taxi to a destination ten blocks away, you'll never make it in New York.
You won't settle for shitty jobs.
Currently, about 8.7% of New Yorkers are unemployed. But it's not because they're sending out 50 resumes a day and getting nothing from it — it's because they are too damn proud to settle for anything less than their $100k college degree warrants them. "I'm a fashion blogger" means they spend all their time making zero dollars by reposting things on Tumblr. "I work at a PR firm" means they get paid $30 a day to hand out flyers for new nightclubs. You'll probably get some haughty looks after admitting you're a hostess at Applebee's, but would you rather make some money, or no money?
You will probably slave away at a job you're overqualified and underpaid for. The best thing to do is realize it's only temporary; in eight-months-to-a-year, you'll either get a promotion, or you'll find a new job. You will not be "discovered," but it is possible to land your dream job if you are dedicated and know where to look / who to ask / what kind of person you have to sleep with to get hired.
You can't navigate the music scene.
Or the art scene. Or the theater scene, or any other aspect of culture that will swallow you whole upon settling in any given NYC neighborhood. There is seriously culture everywhere — Banksy sold his art on a random sidewalk, for crying out loud. People get psyched to star in a no-budget, avant-garde play involving latex body suits, that they will perform for only one night in the basement below a Turkish restaurant. If you don't "do" art, you don't deserve to be surrounded by it 24/7. Get out.
You don't eat bagels or pizza.
It's cool if you're gluten-free, or whatever (there are plenty of places that will fulfill your dietary needs), but seriously? A bagel for breakfast and a slice of pizza for lunch will cost you less than $5 most places, allowing that extra money you'd spend on an $11 salad to go towards something greater — like toilet paper for the month. Nowhere else on Earth will you ever find products as glorious as the New York City bagel or slice of pizza.
Some attempt to replicate it elsewhere, to no avail. You can't make it in New York if you can't appreciate the culinary scene, because we literally have every kind of food on the planet here, and taking the small stuff for granted is a huge "Fuck you!" to NYC.
This post originally appeared on MatadorNetwork.com and is reprinted here with permission. 

Matador Network:
I'VE NEVER BEEN afraid of heights in the traditional sense, but I'll admit to small bouts of vertigo experienced while standing on glass floors like these. I think it's the idea that I'm stepping out onto something delicate and thin, when realistically these floors are engineered to withstand massive amounts of weight, the elements, even bullets.
I used to be a budget traveler, by consequence – I used to be poor as hell, and didn't really have a choice.  Now that I make more money however, I notice some of my habits have changed while traveling abroad.  Here is how I determine whether I should spend, or save while out and about:
Spend when the opportunity is once in a lifetime.  I'll give every place a chance, but admittedly, I know I won't return to certain parts of the world.  Once I figure this out (the feeling is intuitive, trust me), I look for opportunities I'd never experience back home.  Maybe it's dropping a ton of cash on an awesome tasting menu of Costa Rican dishes, or a private market tour in Ghana.  When I'm not certain I'll be back, I want to ensure I have the best time possible.
Save when you know you'll be back for more.  I totally cheap out every time I travel to London, Paris, and places like Iceland and Norway.  These countries are very accessible to me, but are super expensive, so cutting costs is how I am able to repeatedly enjoy them.
Spend when safety is a priority.  While this is purely subjective, if I know I'm going to be in a more volatile area of the world, I'll pay a little more for accommodations in a stable area, with a doorman, round-the-clock security, and a door that properly locks.  It's more a peace-of-mind action, than an uneducated tourist quip.  I like to be close to public transportation, and if it means paying a few dollars more than the budget hostel in the outskirts of town, so be it.
Save when there are lots of things to occupy you.  There are tons of free things to do in large cities (or even small ones).  When I know I'm going to be busy sightseeing, or engaging in the local culture, my lodgings become a place I go to sleep, more than a luxurious standby.  I don't mind spending a lot for an all-inclusive resort because I know there's not much beyond the resort walls to do, but if I know I can be independent elsewhere, it's easier to justify my tight budget.
Spend when the logistics are insane.  I'll spend more on comfortable transportation if my final destination is far from where I've just arrived, or in an area where my only options are infrequent buses and gypsy cabs.  Same thing with flights – I don't mind paying more for direct flights.  I'd probably spend the difference dealing with time in between connections, or re-routing to my FD.  Plus, it means I'll get to spend more time in the location I'm traveling to.
Save when the infrastructure is awesome.  Never would I EVER take anything beyond the London Underground from Heathrow.  I won't even take the top-notch train they've got.  I also love taking Megabus to places like DC and Boston, where I can enjoy the scenery along the drive.