Travel people I admire
A few incidences have gotten me down in the dumps lately.  Drama is no bueno in my book and I try to stay out of it, but sometimes you can't help being affected by it.  Instead of writing a really angry post, I decided to focus this week on the travel writers who I admire and look up to:
Dave and Deb (The Planet D). This travel power couple are not only talented individuals, shrewd business folk and exceedingly entertaining, but they are also genuinely good people.  They interact and engage with even the smallest of bloggers.  They are positive people who just have fun traveling the world and living the dream.  That's what travel writing is all about.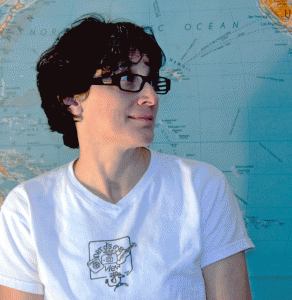 Pam Mandel (Nerds Eye View).  Pam is so cool because she's like an episode of South Park – she voices her opinion, she makes people think, but you never really know whose side she's on.  Which is good, because as a writer and traveler, one should really abstain from bias, and question things from both sides.  Pam is a talented writer, a great speaker, and an incredibly smart, decent person.  I wish I knew she was at TBEX because it would have been excellent to sit down and have some REAL conversation.
Spencer Spellman (The Traveling Philosopher).  Spencer is one of the nicest people I've ever met.  He's kind, funny, smart and laid-back.  But most of all, he just enjoys life – besides having a dream job at Expedia, he seeks out adventure, downtime and other awesome experiences that make him such an interesting person.  And he's an awesome listener.
Iain Mallory (Mallory on Travel).  Iain is an all-around good guy.  His material is always clever and winning, and most importantly, is backed up by solid experience, research and education.  Iain knows his stuff, and I never pass up a moment to banter with him on Twitter.
Miret Padovani (flânerie féminine).  Not only does she produce beautiful photos of food (mainly desserts), but she is a beautiful, kind person as well.  She is a genuine, talented person and I wish I could be her apprentice because all she does is fly around Europe eating pretzels and gelato and mmmmmm so much more.  I wish we'd been able to connect more at TBEX but I know we'll get together soon.
Brenna Holeman and Alyssa James (This Battered Suitcase and Alyssa Writes).  I'm lumping these two together because our conversations pretty much go hand in hand.  They are talented, dedicated, hardworking people and they aren't afraid to tell it like it is.  Most of all, they are apart of my support circle and we are each others' cheerleaders.  If we had an apartment somewhere it would be inSANE.
I know there are others, but those are the people that come to mind and make me smile instantly, and help me remember that not everything in the bloggersphere is uncomfortably commoditized.  If I could be anywhere close to the coolness that are these people, I'd say I did a job done right.  Also, it's important to support and shout-out to the people you admire, because not everyone does.  So if there is a blogger out there, let them know how happy you are to read their stuff!