First of all, know this: I am a carry-on-only kind of girl. I haven't checked my luggage since 2008, and even that was begrudgingly because I was living abroad until god knew when. All of my bags are small, because I'm a light packer. So if the above seem super ridiculous, almost like toy luggage, it's also because I'm 5'1″, and anything larger would make me fall over like a turtle on its back.
So I'm going to Norway, right? Just by myself, sticking it out on my own. I've had a few luggage pieces for a while, but felt I needed something "different" for this trip.
My current luggage pieces include:
1.  My go-to duffel bag. This beauty and I have seen some awesome places. I like that it's cloth so it will mold into any storage situation nicely. However, standing on a customs line for two hours with this thing slung across my shoulders, is no fun. It's also not waterproof, and fits a limited amount.
2.  Rolling duffle bag. My parents bought me this beautiful luggage piece for my birthday. It's pretty well-made, and I love the color. It's also a cool design ("It's like a really big purse!" people often say). However, it's very finicky – it tends to fall over when standing upright, or wobble unbalanced while rolling. It's also a bit of a pain to push in and take out of overhead storage, and the straps are all cray-cray.
3.  Two-wheeled suitcase. This puppy saw me through college, but it's too bulky and doesn't provide good special distribution. It also is annoying to walk with sometimes.
4,  Trekpack. I LOVE my Deuter trekpack, which saw me through my time in Ghana, but to be honest, backpacks are my LEAST favorite type of luggage. I don't trek enough for them to really be useful to me. Plus, packing anything in them is horrible – if I want something at the bottom of my pack, I have to take everything out of it. I haven't used it since, except while moving homes. Plus, carrying everything on your back, all of the time, really sucks. Like, really.
I didn't feel like any of these would really "cut" it. I wanted something that had the durability and space of a suitcase, the ease of wheeled luggage, the accessibility of a duffel bag, and the lightness/transportability of a backpack, all rolled into one. I figured it was a lost cause, but then, I realized –
I needed a wheeled backpack.
HOLY BATMAN, WHAT IS THIS WITCHCRAFT YOU SAY?!?! Wheeled backpacks aren't for nerdy high schoolers anymore. More and more luggage companies are literally "rolling" them out for consumers like me, who want it all, in one place.
But where to start? The next article in this series goes into the different make and models available. Stay tuned to read more!
RECENT YEARS HAVE seen a rise in food tours, but I've never needed an excuse to travel based on food alone.
One of my personal "travel rules" is that I'm only allowed to eat food or meals that I couldn't find back home. Because food is such an integral part of any culture, I take dining out very seriously and consider each meal to be an education. The quirkier and sloppier, with crazy ingredients I've never heard of, the better.
Here are 23 foods worth traveling the world to taste. 

Click the photo to see more awesome foods worth traveling for: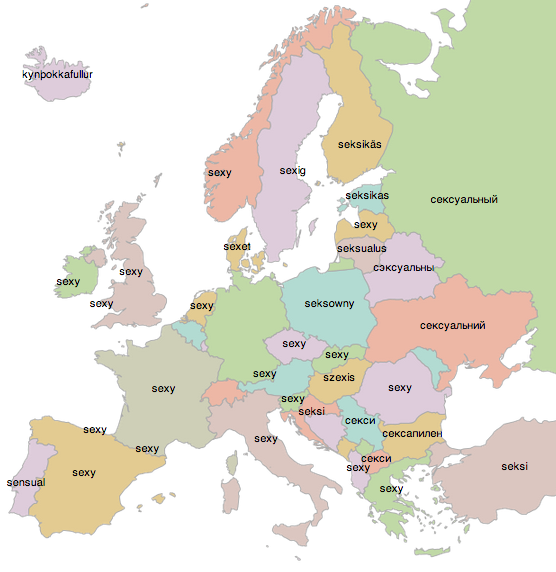 Screenshot via European Word Translator
Thank you, James Trimble, for creating an informative time waster combining all of my favorite travel geek interests – maps, Europe, linguistic patterns, and language evolution. As if his work on UK Data Explorer wasn't cool enough, Trimble has created a page that allows readers to plug in any English word – including curse words – and have it translated across a map of Europe. You can fool around with the map here.
According to Trimble, "This page was inspired by the etymology maps by Bezbojnikul on reddit (which are much more informative than this map). It was built using D3, maps fromNatural Earth, and the Google Translate API."
Take the word, "sexy." More than half of the languages represented use the same spelling and pronunciation. If I wanted to hit on someone during my European travels, the map shows me that I have to modify this adjective once I hit Iceland, where it changes to kynþokkafullur. To me, it's easier to see a visual representation of the word I'm looking for, than carrying around individual language guides for each place.
What words were you surprised to learn about via Trimble's map?
This post originally appeared on MatadorNetwork.com and is reprinted here with permission. 

Soooooooooo happy to announce that a book I contributed to, 101 Places to Get F*cked Up Before You Die, is officially available for purchase at a major book retailer near you!
This is more than a frat-douche bible – this is a social commentary on the way people travel, think, and party.  No matter what opinion you have of what the title may reveal, you have to admit that it's a lot easier to get to know a culture over a drink, than it is gazing at relics in a museum.
Check out what the press has been saying so far!
New York Daily News interview (I'm quoted quite a bit!)
Rudy Maxa's World podcast - interview with David Miller
New Orleans entry on BroBible (one of my entries from the book)
My entries include:
Charleston
Prague
New York City
Long Island
New Orleans
Edinburgh
Washington DC
Žilina, Slovakia
Books can be found at Urban Outfitters, Barnes and Noble, Amazon.com and more.  There are both hard-copy and eBooks available (depending on your technology preference).  I'll be doing a giveaway on my site, so stay tuned for more fun details!  
2014 is almost here!  Here is how last year's resolutions measured up (strike = accomplished, red means still working on it).
Become a townie

Indulge in Staycations.

  I actually did more long-term traveling than I thought I would!  My job change, combined with some more funds allowed me to indulge places other than Long Island.  Now that I'm working from home however, I hope to resuscitate this resolution.

Get to know the Weekend Getaway

– sort of.  We did do a few weekends away, to Pennsylvania, New Jersey, and I went to Saratoga for the 4th of July, but ironically, it was easier to take more time off to travel, than less time.  I have some weekend trips planned for 2014 though, so we'll see!

TBEX '13

Last-minute "field" trip

– we went to Costa Rica in August and it was awesome!
Here is the new list:
Take "working out" literally.  My mom recently lost a boat-load of weight through a combination of Weight Watchers and (wait for it) walking.  Every day she took a walk, around the track at the high school, around the neighborhood, etc.  I want to start hiking, biking and camping more.
Spend less.  So like, I have to start paying back my student loans, not to mention the whole filing-for-my-taxes-quarterly business, so I have to stop adding my name to novelty subscription services, refrain from purchasing anymore bags from Coach, and (le sigh) quit buying plane tickets for a bit.  The good news is I spend a LOT less cash while working from home, so I'm sure it'll even out.
Craft more.  I have a whole craft area in the basement of my apartment, complete with glitter-stocked shelves and an electronic die-cutter – I gotta use it yo.  I've started making decorations for the holidays, as well as sewing/mending things.  It's a nice creative break!
Hone in on my "brand."  I want to have a cool blog.  Seriously.  This thing has been so neglected and I need to get back into the habit of updating it with worthy content.  While my main gig is Matador, there's a lot I think I could bring to other locations that I couldn't necessarily do for Matador, so having a worthy space/portfolio for those people to find me would be AWESOME.