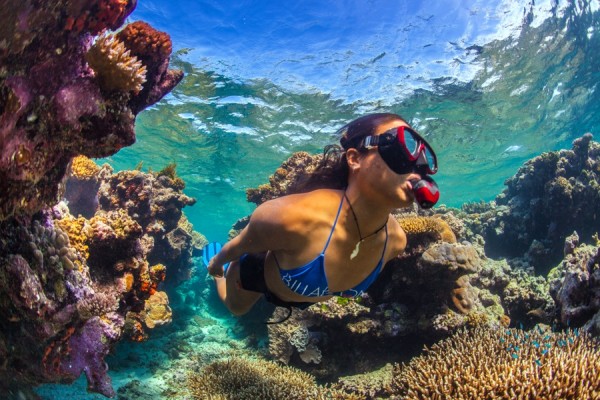 Photo: Scott Sporleder
NEWS CAME through here in Australia that the Great Barrier Marine Park Authority (GBRMPA) has approved a proposal to dump dredge spoil from Abbot Point coal terminal in the reef.
In order to create a multi-billion-dollar coal port in Abbot Point — the world's largest — the authority prevailing over the UNESCO World Heritage site just gave the green light to go ahead with the plan. Dredging is required to allow large ships access to the port.
The Authority Chairman, Dr. Russell Reichelt, proclaimed,
Abbot Point is better placed than other ports along the Great Barrier Reef coastline to undertake expansion as the capital and maintenance dredging required will be significantly less than what would be required in other areas.
A 'must do' for 'vital national development'?
Since the beginning of January this year, 233 scientists have signed a petition to GBRMPA insisting that they reject the plan. Environmental groups have also rallied against the decision.
"This go-ahead for dumping is one more body blow for the reef, which further threatens marine life, its World Heritage status, and Australia's tourism and fishing industries," Greenpeace Reef Campaigner Louise Matthiesson said.
The reef has been facing a fragile future due to climate change, an overpopulation of starfish, and land-driven pollution. It seems like environmental groups already have enough on their plate. Last year, UNESCO warned that the reef could be high on the World Heritage list of sites in danger, unless action was taken to protect it.
I took to the promenade of Bondi Beach in Sydney, Australia, to check in with the locals.
What do you think of the approval to dump dredge soil in the Great Barrier Reef Marine Park area?
"It makes me ashamed to be Australian." ~ Alexandrea, age 28, from Canberra"I don't know anything about it." ~ Timothy, age 45, from Sydney
"What's next for this government? They're losing it." ~ Jonathan, age 31, from Newcastle
"Yeah I also hear they are doing a mass cull of sharks in Western Australia." ~ Jezza, age 19, from Sydney
"Not my problem, wanna come for a surf?" ~ Christian, age 29, from Melbourne
The majority of Australians I spoke to knew nothing about the vote, nor the approval.
It seems to be raining ignorance here in Sydney today. With news of Pharrell William's massive Grammys hat dominating conversation, discussion of a threat to the Great Barrier Reef has been boxed in the corner, labeled "Sorry this is way too heavy bro!"
This post originally appeared on MatadorNetwork.com and is reprinted here with permission. 

Paying $8 for a beer where you're from might seem outrageous, but to us New Yorkers, that's just life.  However, it doesn't mean we drink like that all of the time.  There are plenty of occasions where we need to pinch pennies, and we've all found our favorite cheap drink haunt.  Here are my tips for having a good time in NYC without spending all of your souvenir money on something you'll eventually forget (because you'll be blacked out!):
Hit up Happy Hour.  Get your drank on between 4pm and 7pm.  Almost every bar has some kind of Happy Hour special, from half priced drinks, twofers, fishbowls, etc.  Depending on where you are as well, some places extend their HH hours, or reverse them (ie between 10pm and 2pm).
123BurgerShotBeer.  This place is named after $1 sliders, $2 shots, and $3 beers.  I would say it's probably THE cheapest place to get smashed in the city.  While you won't be getting quality booze here (beers range from Bud Light to Shocktop, shots are super sweet, girly things), you'll be happy when your tab comes out to the price of one fancy cocktail elsewhere.
Stick to dive bars.  The shadier a place looks, the cheaper the alcohol most likely is.  I've been to places on the Lower East Side that offer $1.50 cans of PBR and looked like someone took a homeless guy's stuff to furnish the place.  But booze is booze, does it really matter where you drink it?
Sign up for Bar Parties.  Before you arrive in NYC, sign up for bars and clubs where you can "win" an open bar party.  These usually consist of free drinks for yourself the entire night, with an hour or so open bar for your friends, or discounts on drinks for them.  Take advantage of that hour to get schwasted or pregame before your next big move elsewhere.
Don't be afraid to go ethnic.  Lots of places recommend dining NYC's ethnic eateries for a cheap meal, but this also applies to booze as well.  Japas 38 karaoke bar offers unlimited sushi, sake bombs and 2 hours of private-booth karaoke, for about $35 each.  And lots of Mexican restaurants are not stingy about how much tequila they put in their margaritas.
Nurse it, baby.  Don't want to lower your standards?  Want to feel fancy or treat yo'self?  Buy one of those $15 drinks and nurse it in one place.  At any other bar, you'll probably spend just as much, if not more, on drinking, but if you're looking for atmosphere or trying to save money, nursing your cocktail is the way to go.  Plus, then you get to say you've had a hibiscus green tea martini with flakes of gold sprinkled on the top at the Standard Hotel.
Travel to the outer boroughs.  While places like Williamsburg, Brooklyn or Astoria, Queens are only slightly cheaper, you can still find good drink deals the further from Manhattan you go.  Check out Bushwick, Forest Hills, and even Staten Island for a change of scene.
Want to learn more about NYC's party scene?  Check out my entry on the Big Apple in the forthcoming publication,

101 Places to Get F*cked Up Before You Die

.  Part travel guide, part social commentary, 101 Places is the coolest, funniest way to get to know a place you want be when good times are rolling in.  Wide release is January 7th, but you can reserve your own copy today!
Still haven't taken the plunge on Expedia's newest fundraiser with St. Jude's hospital?  September is halfway over, so you better get started!  Not that you should need incentive to travel, but how much better does it feel going on vacation knowing you've given to a good cause?  Below are some of my favorite picks to bid on.  These trips are sure to get your travel fire started.  If you've already donated to this awesome initiative, leave a comment below with your dream trip!
Prepare to Party in the Caribbean: Punta Cana, Dominican Republic
Think you're too old for Spring Break fun?  This package includes a stay at he Hard Rock Hotel & Casino, along with:
Shows
Specialty cocktails
Signature lounges
A casino to rival Vegas
The acclaimed ORO nightclub
Dining at Simon Mansion & Supper Club
Round-trip tickets to the Bahamas
You can get excellent hotel deals in the Bahamas for less than $100 a night – all you need is this prize to get you there!
These parts of Canada are known to be super European and chic.  Brush up on your French and live Euro-style, without leaving North America!  Includes:
3 nights in a Fairmont room at the Fairmont Le Chäteau Frontenac, a fabled castle in the heart of Old Quebec City, features views of the St. Lawrence river, royal treatment for 2, and daily breakfast.
3 nights for 2 in a Verriere Suite  at the Le St-Martin Hotel Particulier Montréal, with daily breakfast at l'Aromate restaurant.
One of the reasons I'm hesitant to travel to Australia, is that I'd be on a plane for almost 24 hours flying straight from New York.  No me gusta.  But with this package, I could touch down a little sooner, and enjoy some added luxury:
3-night stay in a one-bedroom beachfront suite in Netanya Noosa
King-size bed
Kitchenette
3-nights in a Lagoon One-Bedroom Suite at the Radisson Blu Resort Fiji Denarau Island
Don't have a lot of vacation time?  You're set with this package, which offers hotel accommodations in four of the greatest cities in the United States. Perfect for long weekends and holidays:
3-night stay at the San Francisco Marriott Marquis
3-night stay at the Chicago Marriott Downtown Magnificent Mile
3-night stay at the Hilton Garden Inn Times Square
3-night stay at the Loews Boston
I'm starting the 24-day challenge!  It's not a diet or a cleanse or whatever – it's just me making some changes so I don't look like such a fatass in all of my travel photos.
When I lived in Europe, I was trim because all I did was walk and eat good foods.  Then I came back to the US and succumbed to processed junk, preservatives, high-fructose corn syrup, and more.  I know it's not all about looks, and weight, and that beauty is subjective, but I know I've changed since I was younger and I want to go back to looking that way again.  I'm hoping this system will help me feel less self-conscious and more confident so that I can take my travels by storm.
My friend has done it and I've seen other people do it and it seems like the best course of action for me right now.  So I will sort of be documenting this experience on my blog.  Tomorrow I officially start the challenge, today I'm just making a prep dinner of stuffed peppers – ground turkey, chopped jalapenos, corn, some organic ketchup, paprika, garlic and THAT'S IT.
And then come Halloween, I intend on making these all the time:
I'm so happy to see that Expedia, one of the leading travel conglomerate resources, is partnering with St. Jude Children's Research Hospital to raise funds to defeat childhood cancer and other deadly diseases.  Voluntourism is something I firmly believe in, and while I enjoy visiting new places and to help out communities in need, Expedia and St. Jude's are taking global charity work one step further.
Unlike traditional fundraisers, where people donate money for karma points, Expedia is offering do-gooders the chance to win trips around the world.  Similar to the fundraiser held by Passports with Purpose, people donate money for a chance to bid on trips that interest them.  Locations include all-inclusive resorts, wineries in California, adventures through Asia, and more.  Click here to check it out.  You can also find more information on their Expedia Viewfinder blog post.
Each entry comes with a suggested donation of $5, 100% of which goes directly to St. Jude. You can select as many trip options as you like, with the ability to enter each giveaway once a day for the entire month of September (in conjunction with National Childhood Cancer Awareness Month). The limit is one entry for each prize per person/per day during the Promotion Period.
Alternatively, travelers can receive coupons for a donation of $25.  These include saving 20% on thousands of eligible hotels when you book using the Expedia mobile app, or 10% on thousands of eligible hotels when you book on Expedia.com.  Expedia Rewards members also have the option of donating their points.
This fundraiser ends on September 30th, so make sure you start donating today to increase your odds of winning!  Skip the latte and spend that $5 on something meaningful.  For less than the price of a movie ticket, you could be helping sick children get better, and be one step closer to traveling somewhere awesome!
Have you donated to this fundraiser yet?  Which trips are you hoping to win? 
I'm going to Costa Rica soon.  We booked this trip back in March I think, and we haven't planned a single piece of it.  Those of you who have traveled with me know that is totally not my style.  I haven't even picked up a guide book about the damn place.  WHAT IS HAPPENING TO ME?!?!
Granted, we'll be at an all-inclusive resort.  The last time we stayed at one, it was in Puerto Vallarta, Mexico.  The amazing Marival Residences was chosen not only because of its gorgeous grounds, huge apartment-style rooms, 5-star dining and private rooftop plunge pool, but also because each guest received one free excursion every day of their stay.  We swam with sea lions and dolphins, took a sunset sail, and ziplined through the Sierra Madre mountains.  We were only there for five days, so planning our activities wasn't an issue.
My personal hell is a vacation where I have absolutely nothing to do – laying on a beach for an entire week, for me, is a nightmare.  I like to keep busy, I like to see things and feel like I'm a part of the culture.  I didn't get to do that in Puerto Vallarta, and while I enjoyed each activity, we only spent one day on the beach.  It just felt weird to me that way.
For this vacation, I want to make it more about relaxing than jamming our itinerary with stuff to do.  I figured we'd book a few things in advance, but so far, we have nothing.  It wasn't until last week that I even remembered to book airport transfers to our hotel.  Inside, I am sort of freaking out – I'm not a spontaneous traveler, I like to have a plan.  I like to know which tour companies are the best, which ones won't rip me off, which excursions are worth doing, where I'll see the most animals, which volcano won't spew lava all over my Haviannas…
So it's sort of going to be weird, but also kind of nice.  It will encourage me to sit on the beach more and read, hang out by the pool and drink, and maybe even meet some new "resort" friends.  I've read about guests who've walked along the beach and found locals who showed them around, or took smaller tour companies where they had fantastic experiences.  And I believe it will be sea turtle nesting season when I go, so maybe I can work something out with that!
This will be a very crazy experiment for me – how to have fun without having a "plan."  I know it's possible, and I guess if I'm going to not have a plan somewhere, it might as well be on an all-inclusive resort on Costa Rica.  I'll get to see how a vacation can be done without "doing" anything beforehand – just showing up, settling in, and taking it from there.
What is your experience with trip-planning?  Have you ever gone on a trip where you just bought a plane ticket, and nothing else?