1 in 3 women will experience what happens to the man in this film [NSFW]
by KATKA LAPELOSA  · LEAVE A COMMENT

In a Women's and Gender Studies class I took in college, my teacher had the men role play what it felt like to be cat-called. It was super awkward. French filmmaker Eleonore Pourriat takes things one-step further in her role-reversal short film, "Opressed Majority," where men are seen as the victims of sexual harassment and sexual abuse, and the women, their oppressors. I felt uncomfortable watching a man go through many of the same issues I've experienced.
While I know plenty of men who treat women with respect, the sad fact is that there are people out there who act this way, and think it's perfectly fine. Women are victimized based on their appearance, their choice of clothing, the things they say. According to the White House Task Force to Protect Students from Sexual Assault report, "nearly 1 in 5 women and 1 in 71 men have been raped in their lifetimes," and nearly 1 in 3 women will suffer from some form of sexual assault.
Is this short film an eye-opener? It certainly resonates deeply with me, but the real question is, how does it influence the "oppressed majority?"
This post originally appeared on MatadorNetwork.com and is reprinted here with permission. 

RECENT YEARS HAVE seen a rise in food tours, but I've never needed an excuse to travel based on food alone.
One of my personal "travel rules" is that I'm only allowed to eat food or meals that I couldn't find back home. Because food is such an integral part of any culture, I take dining out very seriously and consider each meal to be an education. The quirkier and sloppier, with crazy ingredients I've never heard of, the better.
Here are 23 foods worth traveling the world to taste. 

Click the photo to see more awesome foods worth traveling for: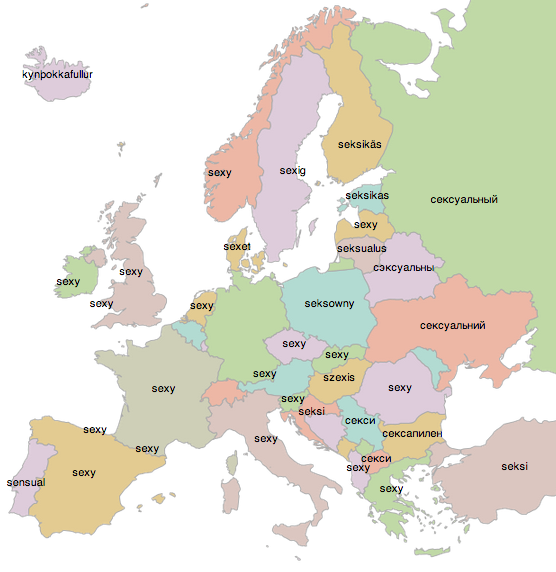 Screenshot via European Word Translator
Thank you, James Trimble, for creating an informative time waster combining all of my favorite travel geek interests – maps, Europe, linguistic patterns, and language evolution. As if his work on UK Data Explorer wasn't cool enough, Trimble has created a page that allows readers to plug in any English word – including curse words – and have it translated across a map of Europe. You can fool around with the map here.
According to Trimble, "This page was inspired by the etymology maps by Bezbojnikul on reddit (which are much more informative than this map). It was built using D3, maps fromNatural Earth, and the Google Translate API."
Take the word, "sexy." More than half of the languages represented use the same spelling and pronunciation. If I wanted to hit on someone during my European travels, the map shows me that I have to modify this adjective once I hit Iceland, where it changes to kynþokkafullur. To me, it's easier to see a visual representation of the word I'm looking for, than carrying around individual language guides for each place.
What words were you surprised to learn about via Trimble's map?
This post originally appeared on MatadorNetwork.com and is reprinted here with permission. 

Soooooooooo happy to announce that a book I contributed to, 101 Places to Get F*cked Up Before You Die, is officially available for purchase at a major book retailer near you!
This is more than a frat-douche bible – this is a social commentary on the way people travel, think, and party.  No matter what opinion you have of what the title may reveal, you have to admit that it's a lot easier to get to know a culture over a drink, than it is gazing at relics in a museum.
Check out what the press has been saying so far!
New York Daily News interview (I'm quoted quite a bit!)
Rudy Maxa's World podcast - interview with David Miller
New Orleans entry on BroBible (one of my entries from the book)
My entries include:
Charleston
Prague
New York City
Long Island
New Orleans
Edinburgh
Washington DC
Žilina, Slovakia
Books can be found at Urban Outfitters, Barnes and Noble, Amazon.com and more.  There are both hard-copy and eBooks available (depending on your technology preference).  I'll be doing a giveaway on my site, so stay tuned for more fun details!  
2013 was certainly a year of "growth" for me.  The other day, I looked back at some of the first articles I ever wrote for Matador, and compared them to recent ones.  It's funny how over time you can just sort of "fall into" place, when the place feels right enough.  I'm definitely lucky to have a job that allows me to write, and be creative.  Here are some pieces I am most proud to have published this year:
Books
101 Places to Get F*cked Up Before You Die | St. Martin's Press.  I just recently read over some of the entries I wrote for this book, which will be officially released on January 7, 2014!  And damn, if there is anyone who excels in the art of trashy travel, I.am.it.
101 Guys to Date Before You Die | Thought Catalog.  While only an eBook, I'm proud to say I have written some kind of literature.  Plus it was fun walking down memory lane and constantly cringing at my idiotic romantic mistakes.
Articles
Why you should start traveling alone | Matador Network.  A fast-turnaround, reactionary piece, I never imagined it would explode over the internet like it did.  I received a lot of emails from people who were inspired by it.  Awesome!
How to piss off a Czech | Matador Network.  This piece was fun to write, but also made me think about what exactly "identity" means to people, and how we should never judge someone, or say they are not something they wish to be, because their sense of identity is not literal enough.
What to Pack for a Travel Shows and Conferences | Travel Fashion Girl.  I always love writing for Alex when I get the chance, and this piece was fun because it combined my love for fashion and design as well.  Plus, it helped me prep for TBEX!
Dear Mom: I want to travel with you | Matador Network.  My mom is imPOSSIBLE to get gifts for, so I wrote this for her for Mother's Day.
How travel has ruined me | Matador Network.  This was probably THE most fun article I've ever written, and one of the most true.
I'm At A Funeral | Thought Catalog.  While not necessarily "cheery," I felt this was a very vulnerable piece for me, and the style in which I wrote it is very different from what I usually do.  I also found comfort in the people who left comments.
Where to get shitty like a president this July 4th | Matador Network.  While this piece totally flopped, I still had fun combining my love of history with my love of getting schwasted, and that's all that matters to me.
What are some of the things you're proud to have accomplished this year?  Link me!
Only one more week until Christmas!  There are tons of gift guides floating around the internet, but not all of us are savvy shoppers.  Luckily, my gift guide is useful for those who forget to buy a loved one a gift literally at the last minute:
101 Places to Get F*cked Up Before You Die ($11.00).  I wrote several entries for this book, including New York City, Prague, Charleston and my home region of Long Island.  Each one is hilarious and provides useful information for not just partiers, but adventurous travelers in general.  It's currently available for pre-order, but every order comes with an awesome 101 Places Koozie!  It officially launches January 7th, just in time for Three Kings Day, so it's technically still a great holiday gift.
101 Guys to Date Before You Die ($3.99).  Nothing like an eBook about my failed relationships to make you feel better about yourself!  With the click of a button, you or a loved one can revel in the ups and downs of 20something dating.  Maybe you'll laugh.  Maybe you'll say "Holy shit, that's so me."  Or maybe you just have an extra $4 lying around that you don't know what to do with.  I promise, you'll have a good time reading it (and will probably need a cigarette right after…).

Give the gift of education – purchase a course at MatadorU for you or someone you love ($350).  It seems steep, but compared to some of the other travel courses on the market, it's seriously a steal (Conde Nast is trying to develop one for about $900…).  Courses in Travel Writing, Photography and Film are available online, and can be completed at your own pace.  Each chapter helps you build upon skills desired in the travel writing field, from story development, to pitch and query writing.  We even have some resources to kickstart your career in travel.